Trade shows are great ways to meet new clients and get your name out there. There are people buzzing from booth to booth, excited to see what vendors like you have in store for them. That also means you're competing for their attention against every other organization that has set up shop. There are critical steps you must take to ensure you're maximizing your time at each trade show and attracting people to your brand's booth.
Whether you're a marketer, HR or IT professional — or perhaps a director or manager who oversees visual content — you'll find this post helpful. From a wide range of industries including restaurants, banking, education, manufacturing, energy, software, and retail, let's look at what you can do to stand out in the crowd.
Invest in Great Giveaways
Yes, it's true; the promos you choose to give away matter. People won't go out of their way to find a booth that's distributing pens that won't work tomorrow. If you offer fun, valuable, and high-quality promos, word will travel, and attendees will seek your booth. Sure, they'll be there for the promos, but that opens the door to conversations, networking, and an entry into your sales funnel.
Need some ideas? Consider the following:
Branded headphones
Laptop skins
Socks
Think of items that are original as well as useful.
Plan Your Strategies Early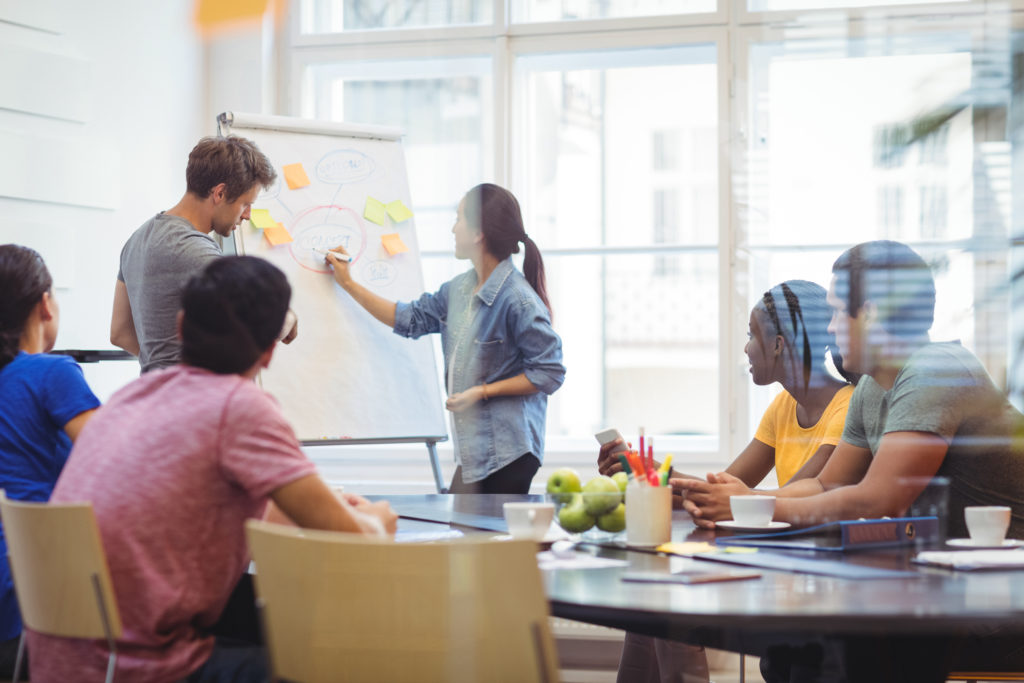 No good marketing campaign can be done last minute, and a trade show is really just one gigantic marketing campaign. It takes the same finesse and planning as anything else your marketing team might do.
Are you going to advertise your corporate hashtag or make a unique hashtag for the event? You'll need time to get the word out and advertise on social media.
Does your graphic design team have to create images that are consistent with your brand? Make sure you don't put them under crunch time.
Do you want to make sure you're not directly next to your competitors at the show? Choose your booth space early.
Do you want to give swag that people actually want? Poll potential attendees to see what kind of items would entice them.
The earlier you can start your strategies, the better.
Know Your Competition
Just as you need to stay informed of your competitors regarding daily business strategies, it's important to understand how they're getting your potential customers' attention at trade shows. Study the vendor map before the show starts so you know where your biggest competitors will be setting up shop. Take note as they're getting their booths ready, to have an idea of the kinds of attention-grabbing plans they have in the mix.
Scale your efforts to match theirs, if you can. If you're new to trade shows, take some time to study past events. That will help you understand the best way to set up your booth in a way that competes with the veteran vendors.
Don't Be Afraid of Color
Many trade show booths feature a black curtain, two chairs, and a table with a black tablecloth. By stepping outside this box and opting for colors, shapes, and patterns, you'll almost assuredly stand out from the competition with minimal effort. Don't forget to bring a well-designed banner and some product displays!
Getting noticed at trade shows is an art and a science. Once you have the formula down, you'll be able to attract the kind of audience that will boost your brand's bottom line. Be sure to consult the accompanying checklist for even more trade show insights.
Author bio: Jessica Ellspermann is Marketing Manager at Enplug, a digital signage software company. After launching her career in the luxury hospitality space, Ellspermann knows the power of content-to-business value, and she uses that expertise to help companies grow engaged in client communities.
Infographic Courtesy of Enplug