It may sound like a contradiction, but your business exposure doesn't depend on the quality of your services. No matter how good and diligent you're at your job, that's not enough to grow online. Google has no button that would let people evaluate your hard work in one click. There's only a search field, where they can type in their queries. And your business content must match them to reach your target audience online.
Depending on the tool you use, you can find hundreds or thousands of real users' queries to target. The question is which of them could play in your favor. Not all queries have equal potential for small businesses. Some of them are useless for conversion, while others are too difficult to compete for. Learn how to choose queries that could work for your small business.
Start with the do-it-yourself portion of your target audience
Search behavior of your potential clients today isn't the same as it was a decade ago. There's so much content online, actually useful content (!), that people first try to work things out themselves before paying someone like you.
Let's say you're a financial advisor and naturally target people in debt. For the term "debt," there are currently 126,9K+ question-based queries. Since some of them can get a few thousand searches per month, the do-it-yourself audience to target is quite broad.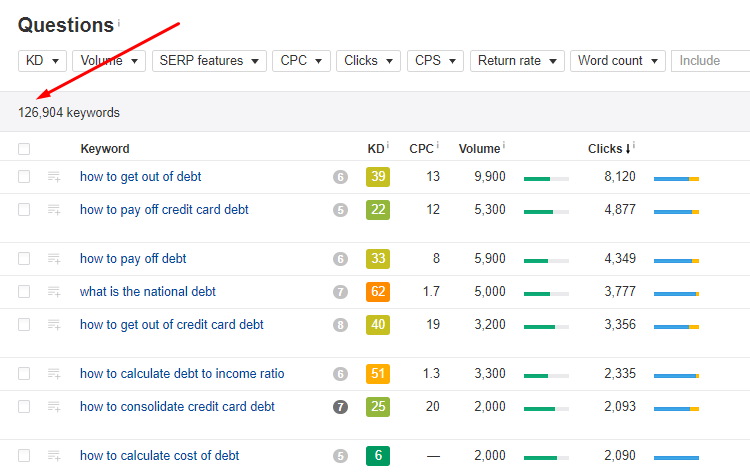 The most frequent queries include the question "how" (57,4K+ or 45.3%). It proves that many people in debt want to learn how to get out of it themselves. Along the way, they also check what debt-related terms mean – there are 35,7K+ queries (or 28.2%) with the question "what."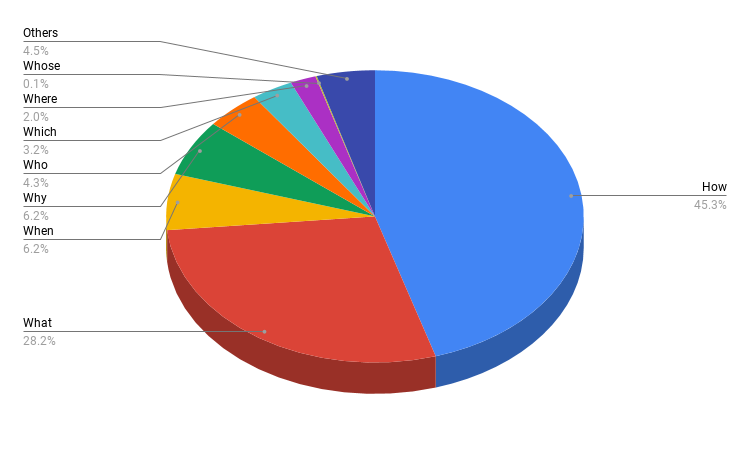 To approach do-it-yourselfers, create content that they'll find useful to read. These tips will guide you on everything from the title and introduction to the structure and interactivity. While they are absolutely necessary to follow, there's one more thing to note.
You're not a blogger, so having readers land on your site isn't enough. As a small business owner, you need those readers to convert into paying clients. Here are a few content tips that could help you with the conversion.
Share some general strategies on how to pay off debt. Then, say you have a proven plan for each individual case that worked for 99% of your clients.
As proof, reveal clients' testimonials and, if they don't mind, add links to their corporate sites, blogs, social media accounts or any other contact info.
Offer the first consultancy for free or at least a good discount that expires too soon to hesitate.
Target your ready-to-pay audience with long-tail queries
Unlike do-it-yourselfers, a good portion of your target audience is ready to pay for your services. They mostly google "financial counseling," "financial advice," "financial planning," etc. The problem is such queries won't get you far.
Check the top search results for "financial planning" – Wikipedia, Investopedia, CNBC, CISI… These resources are too big for small businesses to compete with. You'll need to do tons of work to at least approach their level of authority.
What you can do in the short run is focus on long-tail queries. Compared to broad terms, they are more specific, i.e. include modifiers like the target audience or location, and have a lower search volume. But ironically, such phrases can bring you more traffic than the number of searches they get.
Let's take the query "financial planning for couples" with 100 monthly searches. One of the pages ranking for it in the Top 10 also ranks for 138 similar queries in the US alone.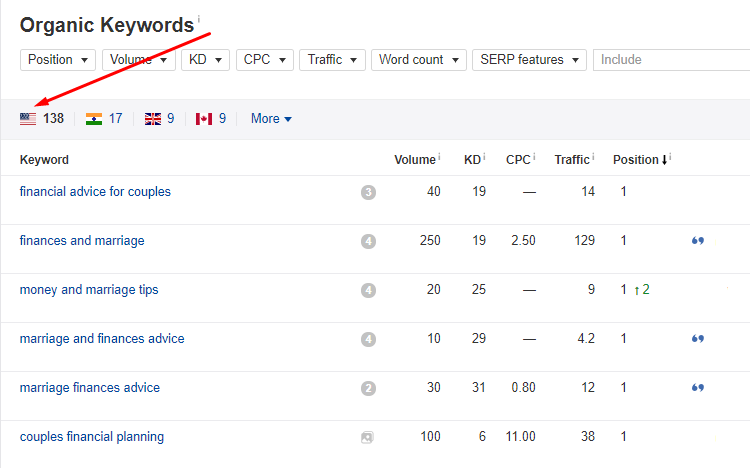 It happens because today Google gives priority to the search intent rather than wording, as it did a decade ago. People can use different words to phrase their queries, but they still intend to find the same info. That's why the page ranking for "financial planning for couples" also ranks for queries with:
synonyms: financial counseling for couples ("counseling" instead of "planning");
different word order: couples financial planning ("couples" in the beginning and no preposition "for");
different word forms: marriage and finances advice ("finances" instead of "financial").
Obviously, the search intent behind these queries is pretty much the same. There's no point in creating a separate content page to target each query individually. It will only lead to keyword cannibalization, which is no good for your SEO.
Weed out queries with little to no traffic potential
While queries with a high search volume look promising, they don't guarantee anything. You can't treat this metric as the alpha and omega of your query analysis. There's a bunch of things that remain unclear:
how many searches will turn into real page visits;
for how long people will visit your page;
how much it will take you to outrank competitors in the Top 10.
To understand which queries have traffic potential, estimate a few additional metrics.
Clicks from Organic Search
At times, people don't even scroll as low as the first result in the Top 10. No surprise here. Google answers their queries straight away, so why bother? While such queries get multiple searches, they bring minimum clicks even to high-ranking pages.
Let's see how SERP looks for the query "secured debt." Google shows a definition for this term in a featured snippet and more info in the "People Also Ask" block.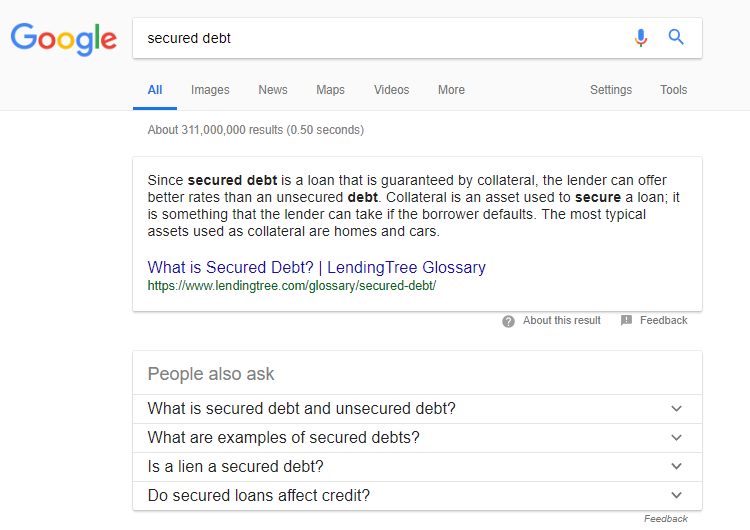 As shown below, 79% of searches never turn into clicks for the "secured debt." They only do when people want to learn about the issue in detail. That's what the remaining 21% stand for.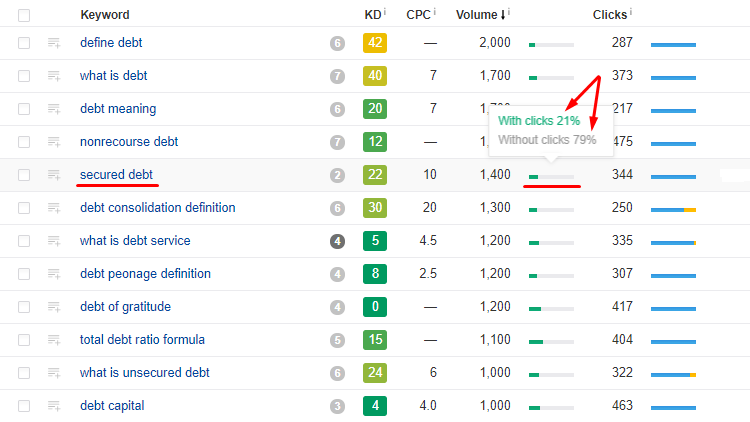 Bottom Line. Check how Google reacts to your target query. Your small business is unlikely to push some big domain out of a featured snippet. But if there's a weaker site in terms of backlinks and traffic, you'll have more chances to take its place.
Search Demand
You may find a promising query with a high search volume, but why do you think it's high in summer and winter alike? Let's see for how long the query "Christmas debt" gets searches during a year.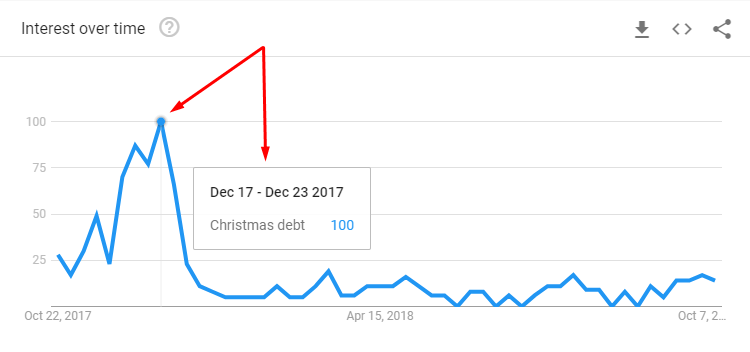 People start showing more interest in the problem a few months before Christmas. The query gets maximum searches a few days before the holiday, and then its search demand drops to stay low until next October. During that time, there's hardly anyone who will visit your page optimized for the "Christmas debt."
Bottom Line. Always estimate the yearly search demand for your target query in Google Trends. Also, watch this tutorial to figure out how to make the most of this free tool.
Keyword Difficulty
Here comes the last but definitely not the least. Competition in SERP is more fierce than on the same street. For some queries, it's way too difficult for small businesses to appear in the Top 10.
One of the factors that determine the difficulty score (KD) is a backlink profile. In fact, the lack of backlinks is one of the main reasons why businesses don't gain the exposure they deserve.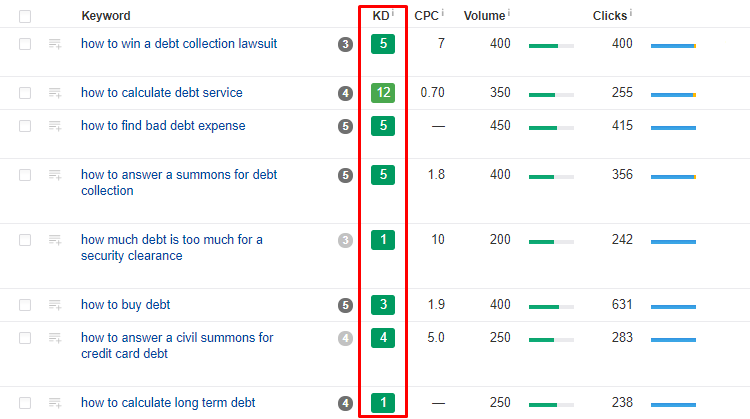 Let's say Google ranks pages with 50 backlinks in the Top 10 for your target query. If your content doesn't have as many backlinks as competing pages, your chances to outrank them are miserable.
Bottom Line. Don't write your content around queries with a high difficulty score if you're not ready to invest in link building as much as your competitors. Better start with easy-to-rank queries to get some traffic in the short run. Then, as you grow, try luck with queries that have a higher difficulty score.
Over to You
If you target queries that simply fit in with your business concepts, things aren't going to work. As you can see, there's a bunch of bottlenecks standing in your way. To earn traffic, you must analyze each query from different angles. Do you know any other tricks to choose juicy queries and filter out the trash? Let's discuss them in the comments below!
About the Author
Nick Campbell is a content marketer at Ahrefs. When Nick is not researching a new SEO topic, he's probably at some tech event. Feel free to contact him for more info.